2006-04-25 @ 9:19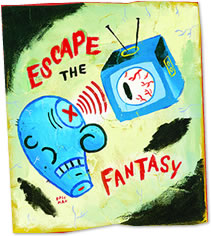 As Kathy at CPU reminds us, it's TV Turn off Week. One full week (April 24-30) without the tube. Some might say, shitty weather (at least in Montréal) for that; others might find it difficult not to watch da game. But hey, it wouldn't be a good exercice if it were too easy, now would it.
Personally, I find it kinda fun to fight this reflex to turn on the TV in the evening. And I actually have time to do things I set out to do (like learn Flash), see people, and enjoy the bad weather. Then again, I now have to fight the temtation of spending that time in front of the computer.
A colleague of mine was talking about TV Turn off Week last week (her daughter recently subscribe to Adbusters), to which another colleague exclamed "A whole week!!!" Shows who's addicted . I remember saying to (other) colleagues, three years ago, that I wasn't watching TV all week, and they just couldn't understand it. Then again, I've been branded "wierd" a few times and have come to accept it.
So, enjoy this week free of the hypnotic control of television.